Empowering Health, Transforming Lives!
Macomb Physicians is a leading healthcare institution that prioritizes preventative medicine and specialized healthcare services to promote overall wellness. With a strong focus on Weight Management, Screenings and Diagnostics, Primary Care, Allergy Testing, Diabetes, Hypertension, and Annual Wellness Exams, they are dedicated to empowering patients with the knowledge and tools necessary to lead healthier lives.
Through their commitment to promoting overall wellness and early detection, they empower individuals to take charge of their health, leading to healthier and happier lives. By combining medical expertise, compassionate care, and state-of-the-art facilities, Macomb Physicians continues to make a significant impact on the health and well-being of the community they serve.
Your path to a healthier tomorrow starts here, with Macomb Physicians' proactive care and expertise !
Online booking, services, stunning logo!
Macomb Physicians Group wanted to book their patients appointments online, have a few service pages to describe their services, and their major requirement was that beautiful logo with the design!
User-Friendly Medical Website: Logo Design & Appointments!
Our team designed and developed a user-friendly website with online appointment-booking functionality. The site featured service pages to describe their medical services comprehensively. The primary focus was on crafting a beautiful and professional logo that reflects the group's identity and creates a lasting impression on patients and visitors.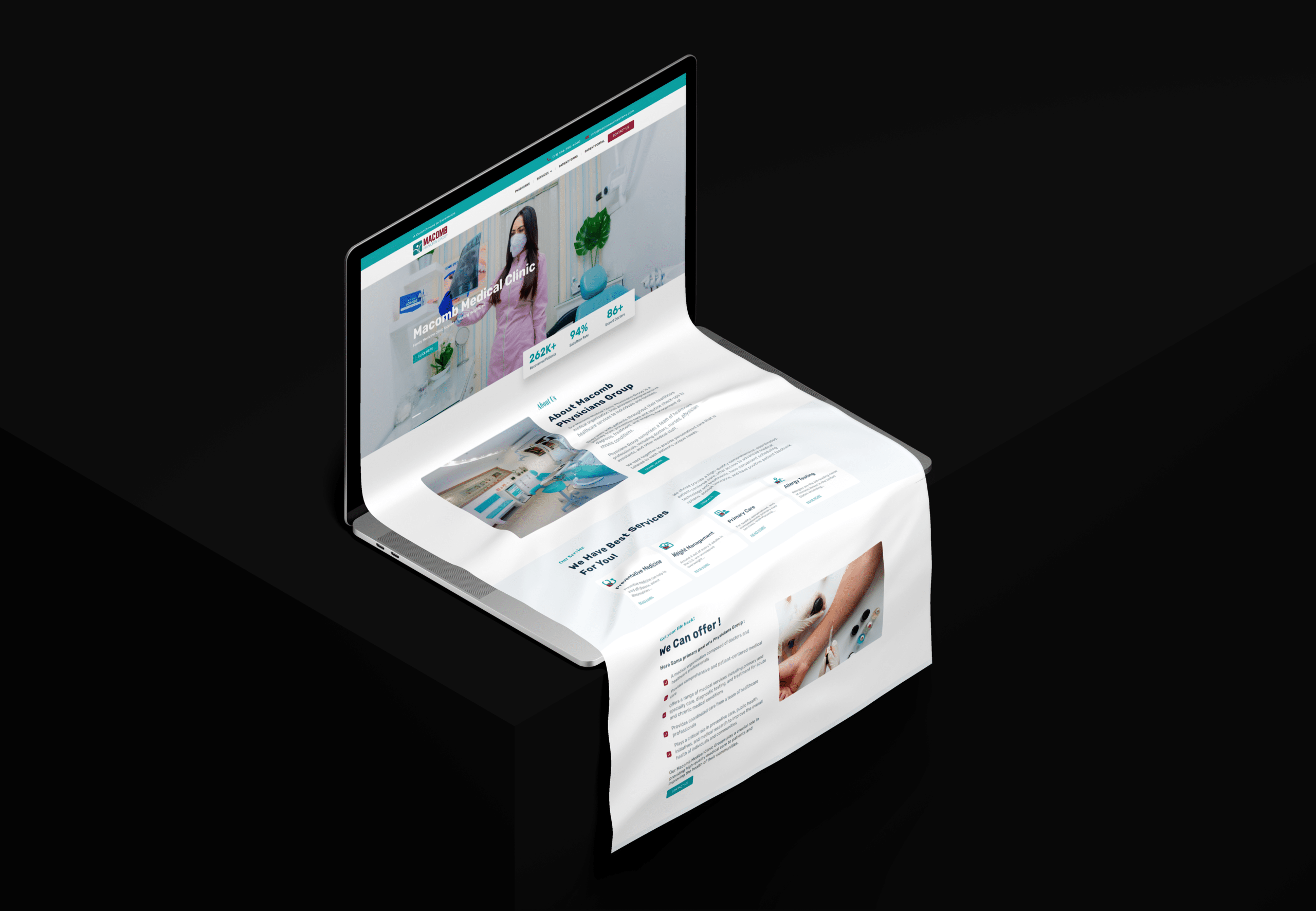 We successfully built a cutting-edge 'Healthcare Industry' website by leveraging a comprehensive range of services, including web design, graphic design, SEO branding, and more. Our skilled team collaborated seamlessly to create a user-friendly interface that embodied the essence of the healthcare sector. With a focus on intuitive navigation and aesthetically pleasing visuals, we ensured the website effectively conveyed the client's vision and values. By combining the latest technologies and design principles, we crafted a robust online presence that captured the essence of the healthcare industry.
During the project, we encountered various challenges while utilizing technologies like Elementor, WordPress, Figma, and CSS. Integrating complex functionalities demanded meticulous attention to detail and coordination among our team members. The Project Manager had to balance timelines and resources, ensuring smooth communication between the UX Designer and WordPress Developer to align design visions with implementation. Additionally, optimizing the website for various devices and browsers required innovative solutions from our QA Engineer. Resolving compatibility issues and maintaining consistent branding across platforms were also tasks that demanded creative problem-solving skills.




Upon completing the project, we achieved outstanding results. The website stood as a testament to our proficiency in designing for the healthcare industry. With a user-centric approach, we delivered an engaging and interactive experience to visitors, fostering trust and credibility for the client's brand. Our website's SEO optimization further boosted its visibility, driving organic traffic and attracting potential customers. The seamless integration of technologies like Elementor and WordPress allowed the client to easily manage and update content, ensuring long-term sustainability. Overall, our efforts culminated in a successful launch, empowering the healthcare company to reach a broader audience and establish a strong online presence.