Beauty Transformation Hub !
The Royal Beauty Bar in Perth, WA, is a well-known and preferred choice for both young and mature clients. They provide high-quality beauty treatments and ensure comfort for all customers. Appointments are honored on time, and emergency walk-ins are also accommodated efficiently.
They offer the best services at the most affordable prices without compromising on the quality, using professional and organic beauty products. The experienced and trained staff prioritize customer satisfaction, leading to high demand and word-of-mouth referrals. Don't wait any longer, visit The Royal Beauty Bar for a stunning transformation.
The Royal Beauty Bar experience and unleash your inner beauty with regal confidence.
Local-focused, Branded, Accessible website!
Royal Beauty Bar wants to communicate online with a client via their website, and their main focus is to Target their local audience! Another need was branding and design, mobile responsiveness, and 91% accessibility.
Whole Beauty Salon Website Research after We done!
We created a user-friendly website that connects effectively with their local audience. Implementing strong branding and an appealing design, the site was optimized for all devices and ensured 99% accessibility, enabling seamless interactions with clients online and enhancing the salon's digital presence.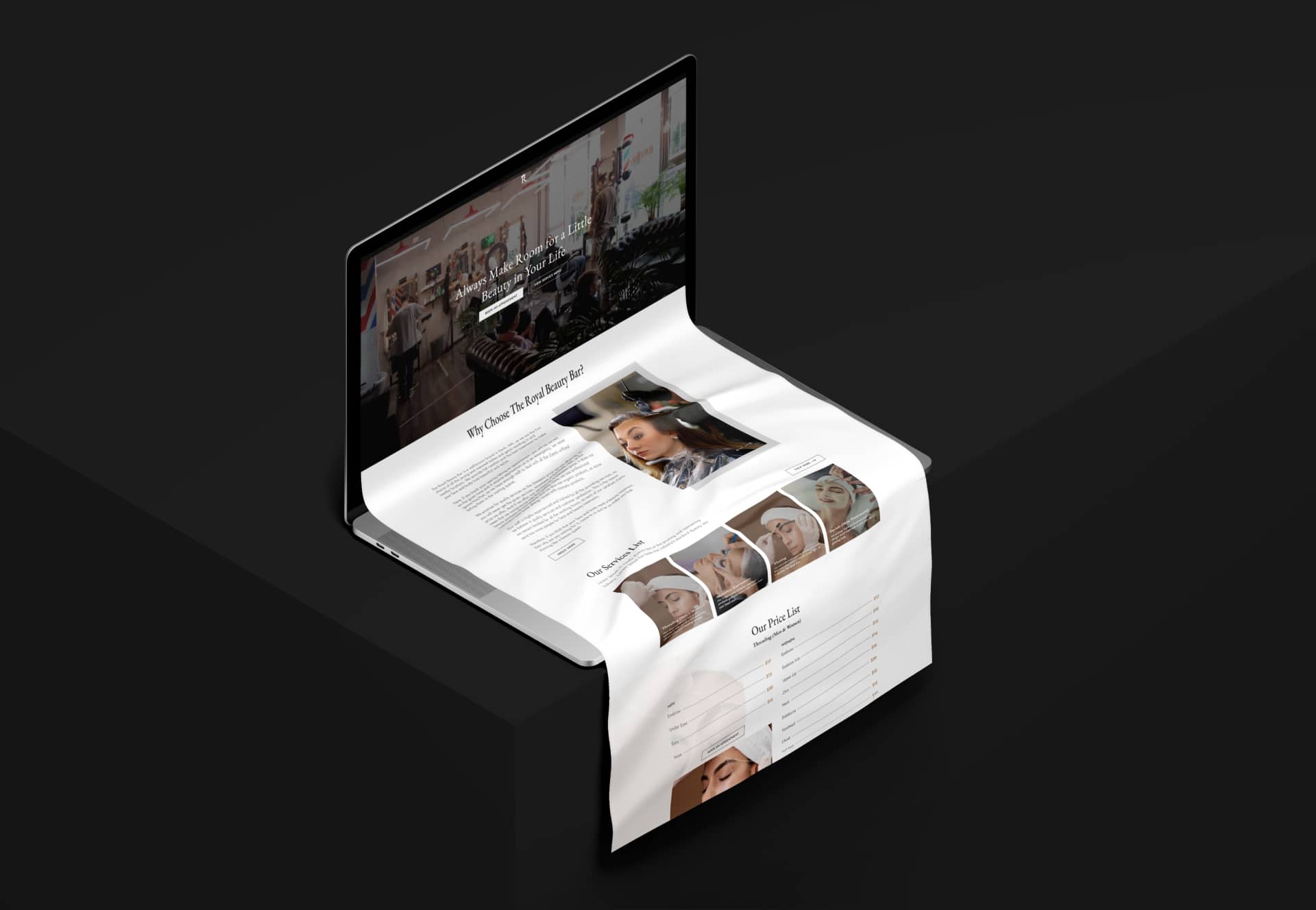 We utilized a comprehensive range of web design, graphic design, and SEO branding services to create the captivating 'Royal Beauty Bar' website. Leveraging the power of Elementor and WordPress, we seamlessly integrated stunning visuals and user-friendly interfaces to enhance the overall user experience. Figma played a crucial role in the design process, enabling our team to collaboratively develop and iterate on design prototypes. Additionally, our expertise in CSS ensured smooth and responsive layouts, making the website accessible across various devices. With the combined efforts of our skilled team, we successfully delivered a compelling online platform for 'Royal Beauty Bar.'
While working on the 'Royal Beauty Bar' project, we might face certain challenges that require careful consideration and expert handling. Integrating technologies like Elementor and WordPress could present compatibility issues that our WordPress developer would need to address. The UX designer may encounter challenges in striking the right balance between aesthetic appeal and usability, ensuring an intuitive user experience. Additionally, collaboration between the project manager and the team members is crucial to maintain efficient workflows and meet project milestones. As the QA engineer, thorough testing would be essential to identify and rectify any potential bugs or performance bottlenecks.




Our team delivered a polished and high-performing website that exceeded the client's expectations. The website boasted a visually captivating design, incorporating the brand's identity and aesthetics seamlessly. With a focus on search engine optimization, the website achieved high rankings on relevant search engine results, driving increased organic traffic to 'Royal Beauty Bar.' The user-friendly interface, optimized for various devices, resulted in enhanced user engagement and reduced bounce rates. Through meticulous testing and debugging, we ensured the website's smooth functionality, providing an exceptional online experience for visitors. Our efforts culminated in the successful launch of 'Royal Beauty Bar,' positioning it as a prominent player in the beauty industry's digital landscape.